After spending countless nights making meals of elbow noodles covered in butter and Parmesan cheese, while watching my boyfriend grill his own chicken dinner, I decided it was time to start cooking!
What better way to start, then with my roots. My mother used to make salmon patties for quick fix to a long day, and they were amazing!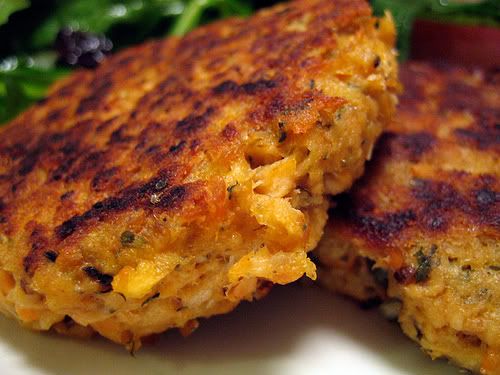 1 can of Alaskan Pink Salmon
1) De bone salmon and place in a medium size bowl
2) Crack egg over salmon and mix together
3) Combine breadcrumbs in with salmon and egg and mix ingredients together by hand.
*You may need to add a little more breadcrumbs depending on how firm you prefer your patties.
4) Form patties to your liking. You should be able to create 4 to 5 average size patties with one can of salmon. Double recipe for larger families (or hungrier bellies.)
5) Fry in pan as you would a hamburger and enjoy!
**These taste great topped with a simple tartar sauce!

PC: Freerecipes.org